A PLACE WHERE YOU CAN SEE EVERYTHING – This is the first thought that comes to my mind about Mobile Internet Banking. Banks who adapt in digital banking are being advanced in providing quality banking experience by tailoring their offerings to their customers because of open banking.
While top banks are enjoying this kind of flexible and extensive Open-Banking, the majority are still stuck with the traditional way of banking. Taking leverage of this new technology will expedite the growth of Banks and Financial Institutions.
What is Open Banking?
It is a banking technology model that gives access to users to securely allow their data that they can share with the bank's third parties (of course, with their consent)  to offer a personalized and seamless experience.
This banking model creates a more competitive environment by opening up new opportunities for collaboration between banks, fintech, and other financial institutions. In the Philippines, it is still in its early stages, but it is quickly gaining traction as a new and innovative way of providing financial services to customers.
The implementation of open banking in the Philippines requires collaboration between different stakeholders, such as regulators, banks, fintech, and customers. The Bangko Sentral ng Pilipinas (BSP), the country's central bank, has created guidelines and regulations that encourage the adoption of open banking in the Philippines. These guidelines include the use of APIs (Application Programming Interfaces) to facilitate the sharing of data between banks and third-party providers.
To encapsulate how it works, Banks and Fintech have privacy policy guidelines when we are installing an app or registering to their website. This means that they designed data safety conditions that comply with regulators and the government to protect every customer's data.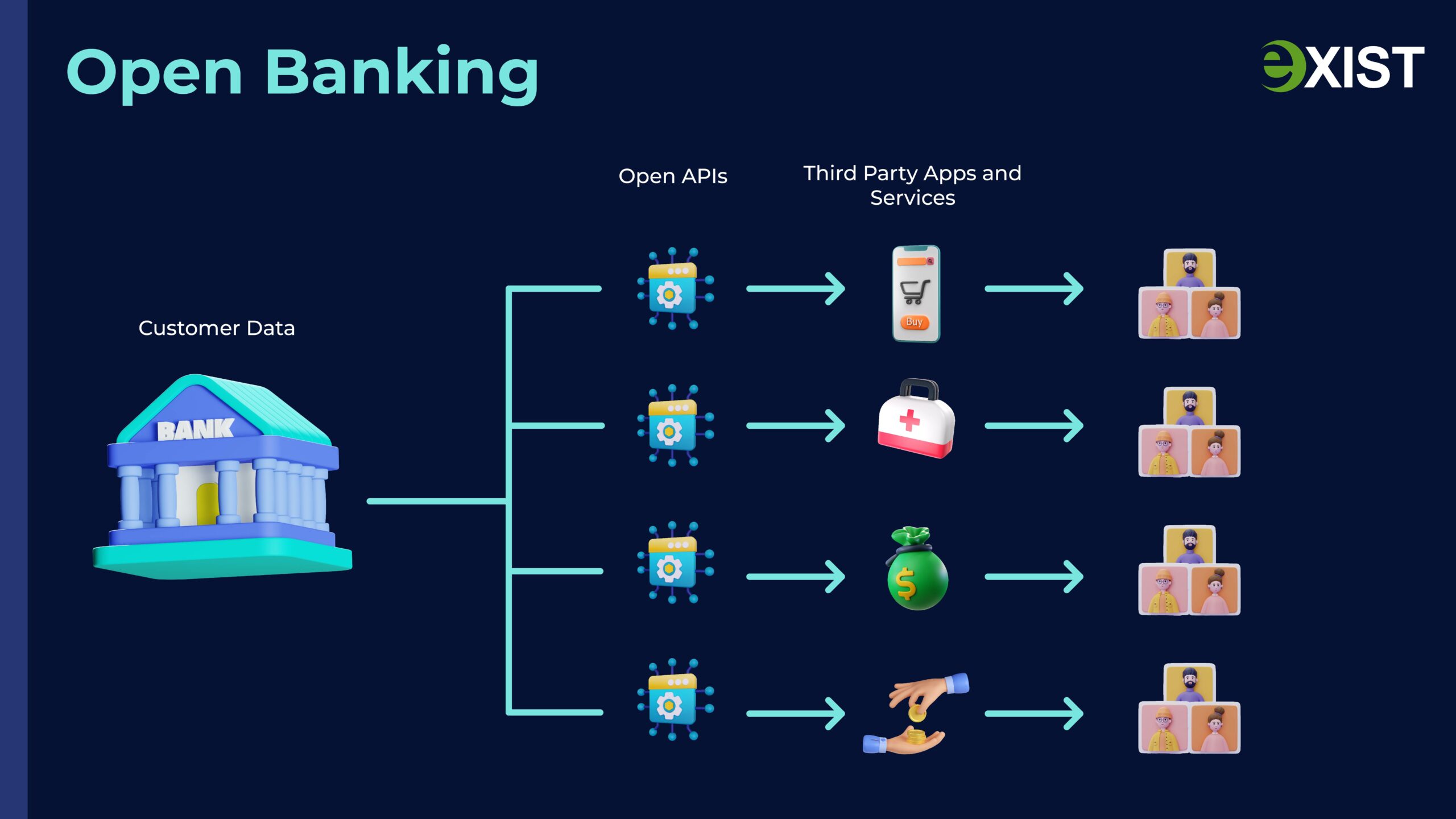 Open banking offers several benefits to both banks and customers. Banks can leverage open banking to improve the customer experience by offering new and innovative financial products and services. For example, it enables banks to provide personalized financial advice, digital payment solutions, and other services that meet the needs and expectations of their customers.
Moreover, by partnering with fintech and other third-party providers, banks can access new technologies and expertise that can enhance their offerings.
By working together, regulators, banks, fintech, and customers can create a more competitive and transparent financial services market that benefits everyone. For banks still not adapting to this technology, it is important to stay informed about open banking and embrace this new model to stay ahead of the competition and provide better services to customers.
Executives must understand the importance of open banking and support its implementation and growth. IT experts, on the other hand, must ensure that the necessary technology and infrastructure are in place to help open banking securely and efficiently.
What are the Benefits of Open Banking?
Improving competition:

It allows third-party providers to offer financial services, increasing competition in the market and providing customers with more options.

Enhancing innovation:

It enables the development of new financial products and services through tailored promotional offerings, loyalty rewards, and other marketing advertisements based on customers' interests, digital behavior, etc. These kinds of personalized user experiences are always with the consent of users by checking the terms and conditions when they sign up for an account. Additionally, the terms and conditions of the banks are always relying on the government's

Data-Privacy Act

.

Improving financial inclusion:

It can help reach underserved or unbanked populations by enabling new providers to enter the market and offer financial services.

Enhancing security:

It can help improve the security of financial transactions by using modern technologies and standards, such as strong customer authentication.
How Should banks respond to Open Banking? Do they need to adapt?
Banks need to respond to open banking and adapt to this new model. Open banking represents a shift in the traditional banking industry and offers both challenges and opportunities for financial institutions. 
To successfully respond to open banking, banks need to adopt an open and collaborative approach. This means working with fintech, third-party providers, and other stakeholders to develop new financial products and services that meet customer needs and expectations. In order to do this, they need a Digital Banking Solutions Provider that will enable them to apply it accordingly. The effect? Banks can leverage open banking to offer new services, such as personalized financial advice and digital payment solutions, that can improve the overall customer experience.
Additionally, banks must prioritize security and data protection in their initiatives. This includes implementing robust security measures and data management processes to ensure the protection of customer data and financial information.
In short, banks need to respond by embracing it as a valuable opportunity to improve their offerings, better serve their customers, and stay competitive in the market. By adapting to open banking, banks can ensure their continued success in the rapidly evolving financial services industry.
Exist Software Labs, Inc. offers digital banking solutions for banks and financial institutions that want to modernize their systems to better serve their customers and make their banking seamless and personalized. Our solutions include but are not limited to Mobile Internet Banking, Accounts Onboarding/Enrollment, Loans Management System, & Corporate Internet Banking. 
Contact Us Today to Learn More about Digital Banking!
Start your Digital Banking journey that is secure, scalable, connected, cloud-ready & flexible.