Technology became unwavering as it conquered many battles in the last two years when the pandemic became a primary problem in different business sectors across the whole world. While sudden changes broke their business plans, this too established adapting technology, especially in the banking and financial services industry.
We all know that 2022 was an exciting year for the banking industry since it opened a lot of opportunities for businesses. But this 2023, banks and financial institutions will continue to evolve with the new market trends that would create next-generation digital banking solutions and meet their customer needs when it comes to seamless operations, online transactions, and 24/7 banking. 
Here are the technologies we need to look at when it comes to Digital Banking this 2023:
1. Cloud-Based Banking
Cloud is one of the biggest trends in the post-pandemic era because of the advantages when it comes to security and online access to data. At first, chief officers and executives were skeptical about having a cloud-based banking platform, particularly on security and information sensitivity but realizing that cloud has a secure framework and could give financial firms endless scalability and access to the internet, this technology would get to expand.
As end-users embrace digitalization, banks must stay relevant and innovate services that give convenience and personalization to their customers. Cloud-based banking is a powerful technology that will truly empower banks and financial institutions this 2023 and beyond.
2. Identity Verification & Fraud Prevention
According to the BSP's Inclusive Finance article, it is a state wherein there is effective access to a wide range of financial services for all, especially the vulnerable sectors. In line with this, digital customer onboarding should be a primary feature in the Banking applications to enroll their users online easily. However, banks are prone to identity theft and fraudsters that's why they need to have a reliable eKYC solution and identity proofing.
Jumio is an end-to-end eKYC Platform that helps banks to have automated identity proofing, eKYC, and Transaction Monitoring. From onboarding to monitoring, they build trust based on your terms.
Jumio is one of the technology partners of Exist Software Labs, Inc. (Learn More)
3.
Always-On Financial Observability & Monitoring
While our human bodies cannot be awake 24/7 and need to take rest, banks' operational systems, data warehouses, third-party applications, etc., should be observed in real-time without a blink of an eye. Banks are handling tons of data per minute like transactions, financial records, analytics, and reporting tools. Good thing, Real-Time Observability Technology's primary duty in a bank's system is to identify critical issues, diagnose and resolve them to prevent outage & fix infrastructure before it creates an impact on the business.
4. Open Banking APIs
The Banking and Financial Services landscape continues to evolve as they work with other companies in creating a convenient and innovative financial ecosystem and part of it is acquiring an Open Banking API (Application Programming Interface) Integration. While some of the banks don't want this kind of development because of information sharing, this technology benefited the end-users to access new helpful applications to make it an omnichannel digital banking platform inside their mobile apps like investments, cryptocurrency, savings plans, & insurance.
5. Embedded Finance (BNPL)
Banks & Financial Services are more rapid than ever since companies considered cashless and online transactions. Embedded Finance is an integration of different financial services to businesses in one application without the need to transfer them to other branches or other landing pages (when online). To encapsulate this, you can see payments, investments, lending & insurance to a real estate application or to a health care provider's application. (See the infographic below)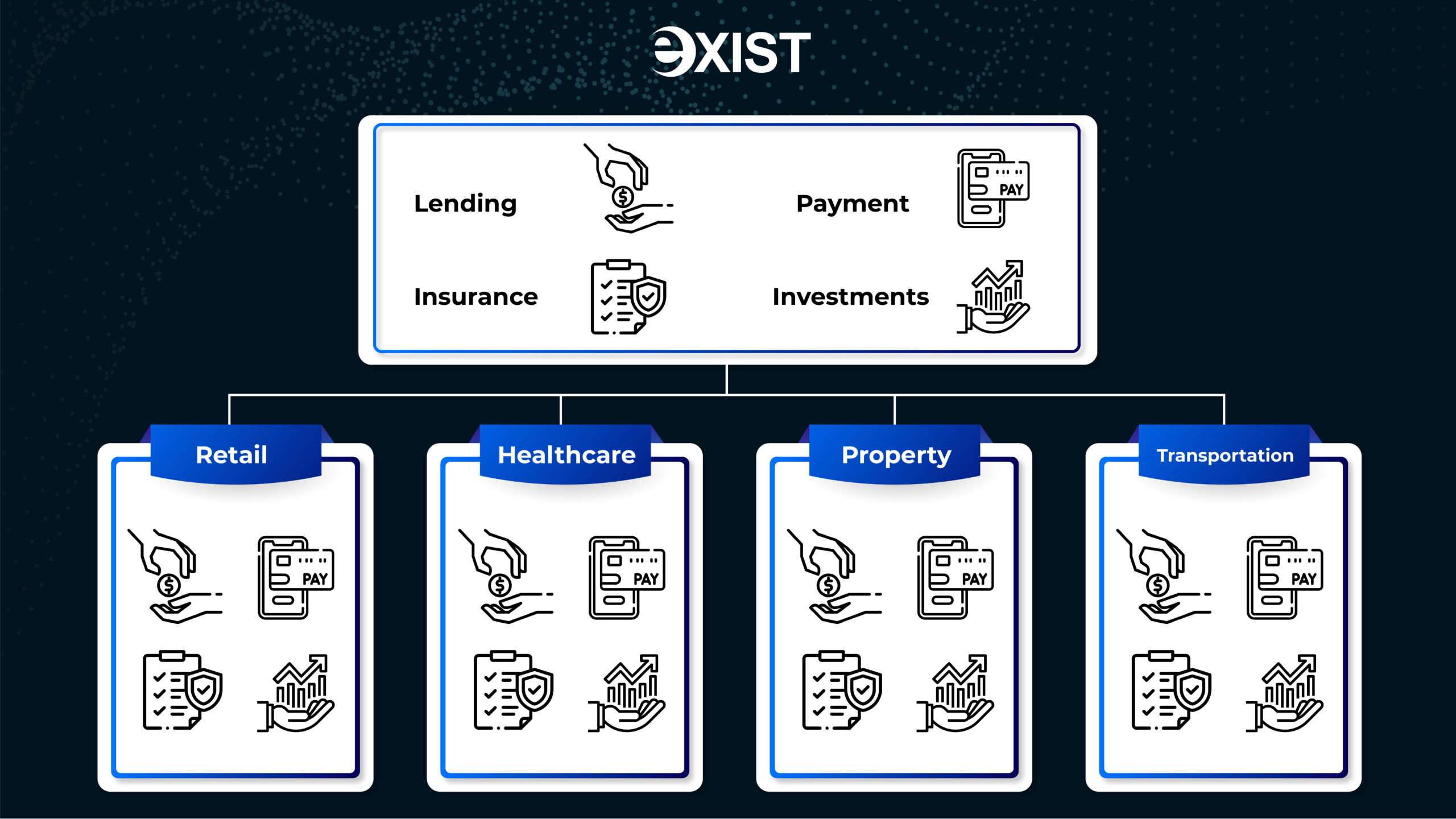 According to Mckinsey's Global Payment Reports, Embedded Finance reached $20 Million in revenue in the US alone. Could you imagine how impactful it was in the world? That's why most companies in APAC are now getting this technology to really help them to grow their revenue.
6. Blockchain
Blockchain technology is slowly but surely making its impact on banks and financial services by proving that it is the most prominent technology this decade. Most of us heard this word but we are not yet seemingly seeing its effect. Blockchain is expected to revolutionize the banking industry and other businesses like retail, healthcare, and more. 
Blockchain will be expected to accelerate international transfers and monetary transactions faster, more cost-effective, and more secure. Right now, when we are doing fund transfer from one country to another, our transactions can take multiple hours with a processing fee before it gets to the recipient. Blockchain, on the other hand, can empower these parts to make it faster and simpler for more efficient transactions. Some fintech in the PH is using their digital wallet to cash in, save, and invest in a crypto wallet.
There are a lot of features and advantages we can look forward to with blockchain technology like reducing the cost of the BFS industry, reducing human errors by automating record transactions, more efficient banking, and more!
Conclusion:
As we can see, there are so many technological innovations that can be customized based on the bank's and financial institutions' offerings. They can utilize it to provide seamless, omnichannel, and powerful banking. However, this can only be possible by tapping into an IT solutions provider or Software developer that can truly help you in your digital transformation this 2023. Exist Software Labs, Inc. is one of the technology innovators in the Philippines with over 2 decades of experience in bringing the value of technology to humans.
Contact Us Today to Learn More about Digital Baking!
Start your Digital Banking journey that is secure, scalable, connected, cloud-ready & flexible.