Exist Software Labs discusses Cloud and Data Federation at Sun Life Global Solutions' Spark Innovation Series
https://exist.com/wp-content/uploads/SUNLIFE-EVENT-blog-4.jpg
650
486
Exist Software Labs
//exist.com/wp-content/uploads/logos/exist/logo-default.png
Cloud adoption has become increasingly essential for businesses looking to enhance their operations, improve scalability, and drive innovation. It allows organizations to leverage the power of cloud computing services to store, process, and analyze large volumes of data with ease.
On Aug 29, 2023, technology experts and IT professionals converged at the Sun Life Centre, in Bonifacio Global City, Philippines. Exist Software Labs graced Sun Life Global Solutions' Spark Innovation Series, which discussed, for that session, Cloud & Data Federation. The Exist Team shared their insights and experiences as a technology company, focusing on the importance of Cloud and Data Federation in an organization's Data Maturity Journey.
Cloud Adoption 3.0
In today's digital age, the adoption of cloud technology has become increasingly important for businesses. Cloud Adoption 3.0, the next phase of cloud adoption, is an innovation where organizations are not only leveraging the power of the cloud, but also embracing data federation.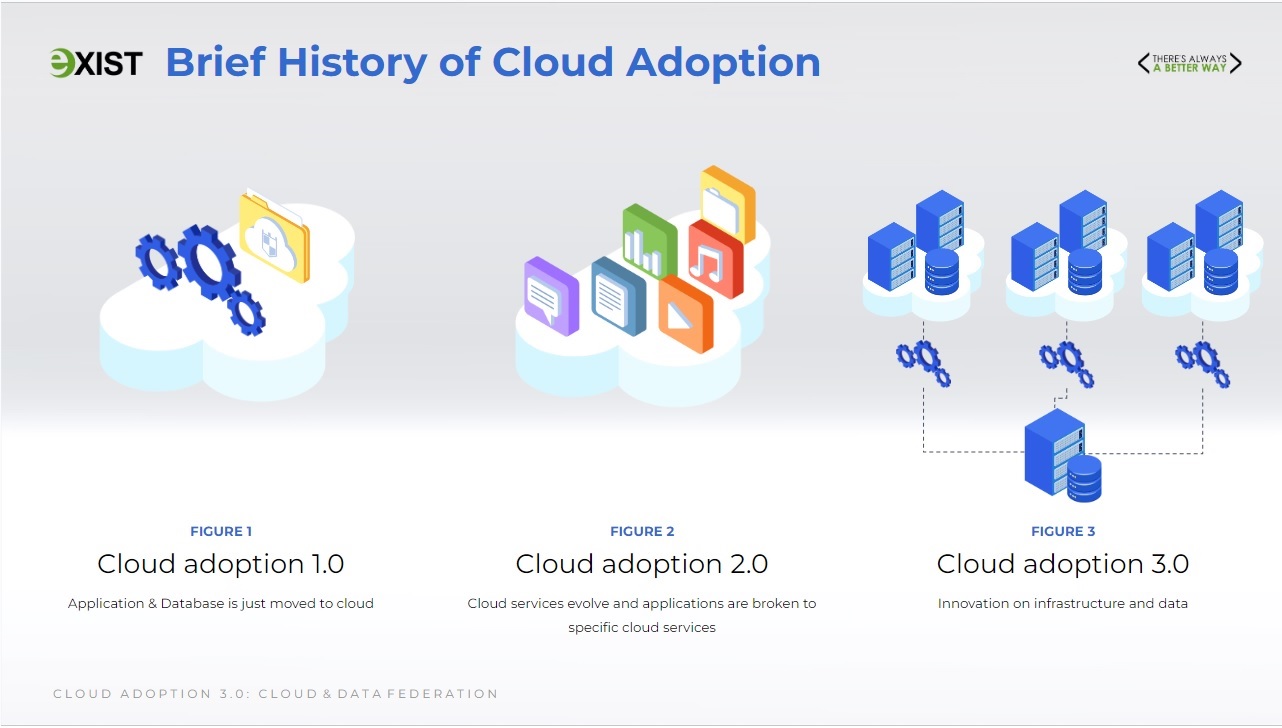 Exist Director of Tech Services Dennis De Vera focused his presentation on the implications, benefits, and uses of Cloud Adoption; including increased flexibility, scalability, and cost-effectiveness. Cloud adoption allows companies to store and access data from anywhere in the world, enabling remote work and collaboration.
With the growing amount of data being generated by organizations, managing and analyzing this data becomes a challenge. According to De Vera, "This is where data federation comes into play. Data federation involves integrating and combining data from multiple sources or clouds into a unified view."

Cloud and Data Federation Strategies
By adopting cloud & data federation strategies, businesses can unlock even more value from their cloud investments. They can gain deeper insights from their data by analyzing it holistically rather than in silos. This enables better decision-making, improved customer experiences, and enhanced operational efficiency.
Furthermore, cloud & data federation also provide organizations with greater control over their data governance and compliance requirements. With centralized control over access permissions and security measures across multiple clouds or sources of data, businesses can ensure regulatory compliance while maintaining high levels of security.
Implement Cloud Adoption and Data Federation to leverage on your cloud investments now
What part does security play?
Whilst cloud & data federation integrate resources across multiple platforms and servers, it also introduces potential vulnerabilities that must be addressed to maintain a secure environment. Protecting secure assets, such as sensitive customer information or proprietary business data, requires strong access controls, encryption mechanisms, and authentication protocols. 
Regular audits are crucial for maintaining security within a federated environment and identifying potential weaknesses or compliance gaps. By examining security controls across different platforms and servers, organizations can proactively address vulnerabilities before they are exploited by malicious actors.
Security plays an integral part in the Cloud & Data Federation. By implementing robust encryption measures, conducting regular audits, and enforcing strict access controls, organizations can protect their valuable assets while leveraging the benefits of federated environments effectively.
Know more about what cloud adoption and data federation can do, specific to your organization