Strengthening Disaster Resilience: Catholic Relief Services hands over Gawad Kalasag Management and Information System to Office of Civil Defense, Powered by Exist Software Labs
https://exist.com/wp-content/uploads/GKMIS-handover-2.png
1300
972
Exist Software Labs
//exist.com/wp-content/uploads/logos/exist/logo-default.png
Exist present at the Office of Civil Defense last Nov. 21, 2023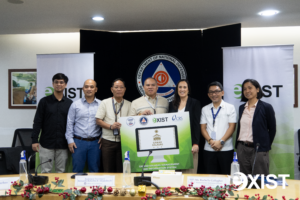 In photo (L-R): Exist Director, Tech Services Dennis de Vera, Exist VP-Operations Jonas Lim, OCD Asec. Bernardo Rafaelito, OCD OIC-PDPS Dir. Harry Barber, USAID-BHA Humanitarian Assistance Officer Rachelle Gallagher, CRS Country Head Jonas Tetangco and CRS Marcelle Rubis.
QUEZON CITY – The Catholic Relief Services together with USAID formally handed over the Gawad Kalasag Management and Information System (GKMIS) – Web Application Development to the Office of Civil Defense (OCD) last Tuesday, 21 November 2023. 
The GKMIS aims to help the OCD consolidate data from LGUs into one platform to help implement their disaster risk reduction programs, projects and concerns efficiently. The platform enables the OCD, in particular the National GK Secretariat, the Validation and Selection Committee, and the National GK Committee to encode evaluation scores and generate assessment results in a data visualization dashboard. The National GK Secretariat is expected to use the system for database-related tasks. 
The GKMIS web application will be hosted on a cloud platform, utilizing Amazon Web Services (AWS) as the designated service provider and boasts of high availability and scalability. It features a public page and navigation to different modules and has a preview map of the Philippines with data from Local Disaster Risk Reduction and Management Office (LDRRMO) Assessment and tables and charts from the LDRRMF and LDRRMP data. This groundbreaking project has been made possible in collaboration with Exist Software Labs and marks a significant stride towards enhancing public services. 
The handover took place at the Office of Civil Defense in Quezon City, Philippines. 
CRS Country Representative, Mr. Jonas Tetangco together with USAID's Humanitarian Assistance Officer, Ms. Rachelle Gallagher and OCD's Asec. Bernardo Rafaelito and Dir. Jose Harry Barber, together with Exist Software Labs Vice President for Technology, Mr. Jonas Lim and Tech Services Director, Mr. Dennis De Vera, came together to symbolize the transfer of responsibilities and expertise. The handover featured speeches from key stakeholders, expressing gratitude for partnership and emphasizing the shared commitment to strengthening the nation's resilience against natural disasters.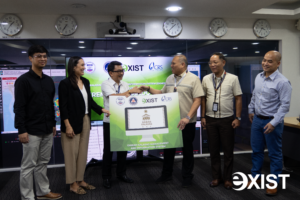 About Gawad KALASAG (GK) Search for Excellence in Disaster Risk Reduction and Management and Humanitarian Assistance
GK is the nation's highest honor for excellence in disaster risk reduction and management. It has played a pivotal role in highlighting and elevating the standard of disaster resilience programs. This prestigious prize gains a technological edge from the use of a customized management system, which streamlines the collection, processing and distribution of information.

Role of Exist Software Labs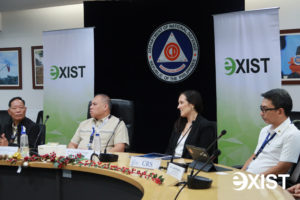 The Office of Civil Defense chose Exist Software Labs Inc for its capability to deliver all features in terms of their reference and cost efficiency.  Exist will implement a comprehensive management information system solution designed to streamline various aspects of governance, from citizen services to internal operations. The project encompasses a range of innovative technologies that are poised to elevate the overall efficiency and effectiveness of the local administration.
Moving Forward
The event closed with a significant handshake from representatives as a new era in disaster resilience technology is being brought in with the GKMIS. This collaboration of technology innovation, political control, and humanitarian commitment paves the way for a time when communities are better equipped to deal with natural calamities.
The GKMIS Web App Database System powered by Exist Software Labs will provide the infrastructure needed to store, manage, organize and utilize data effectively in the context of disaster risk reduction and management. Start your data management journey with us and become a data-driven organization.
Learn More About Data Management