On June 22, 2023, banking leaders, technology experts, and decision-makers converged at the Grand Hyatt, BGC for a momentous event — CIO Roundtable Humanized Banking: Building Brand Loyalty Through Security and Seamless Banking. This exclusive gathering aimed to drive humanized experience of digitalization in the banking industry. Throughout the event, industry experts, including Exist Software Labs, Inc., shared their insights and experiences, emphasizing the role of innovative technologies like AI, YugabyteDB, and embedded finance in delivering exceptional customer experiences.
Kick-off and Welcome Remarks:
Jonas Lim, the Vice President for Engineering of Exist, set the stage for the roundtable with his thought-provoking welcome remarks. He delved into the significance of digitalization in the banking sector, highlighting the potential for technological advancements to revolutionize customer experiences and drive operational efficiency.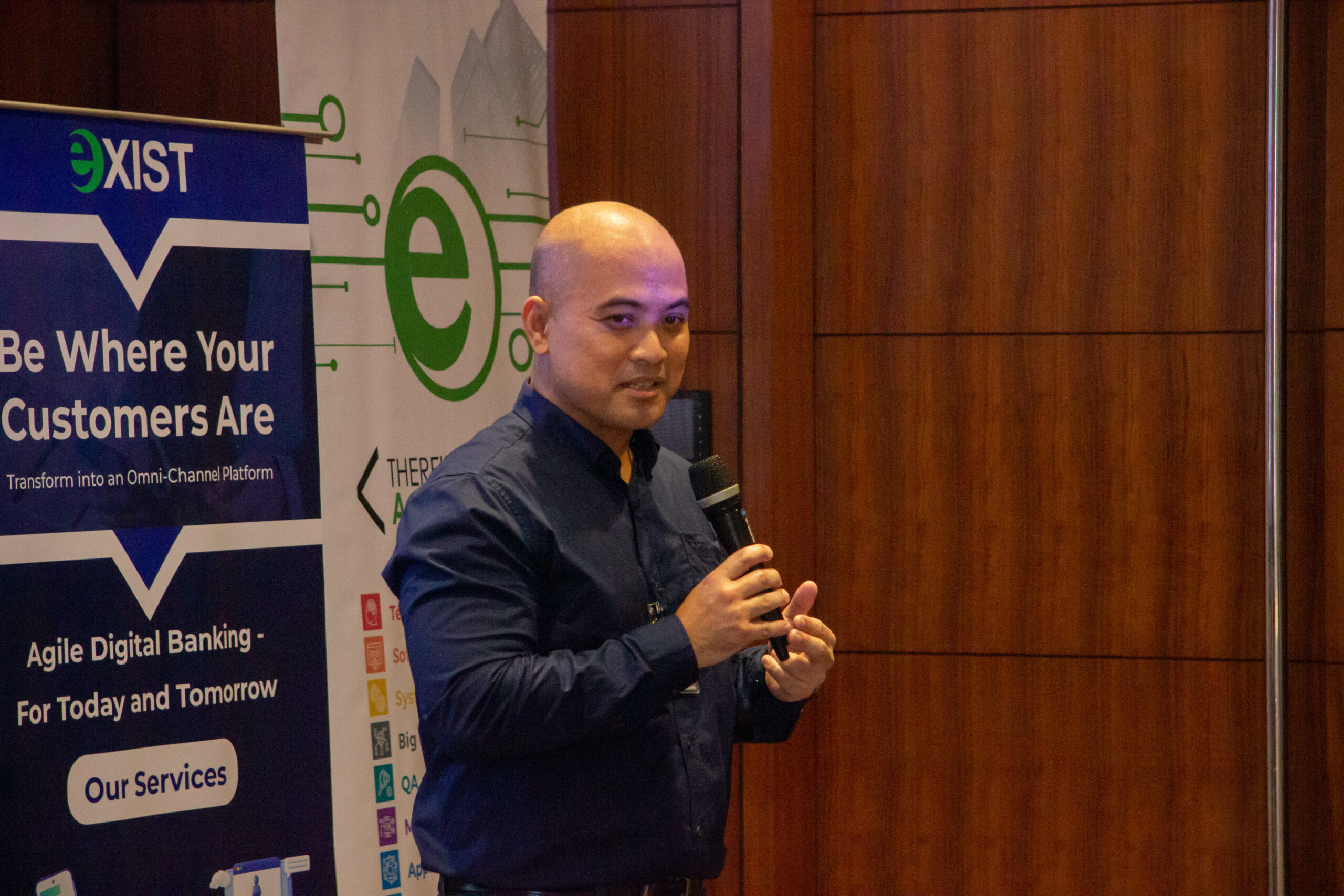 Explore the Power of Digital Banking
Start your Digital Banking journey that is secure, scalable, connected, cloud-ready & flexible.
Engaging Insights and Use Cases from Top Banks:
Representatives from leading banks in the Philippines took the stage, sharing their experiences, challenges, and success stories in adopting digital banking solutions. With a focus on security, infrastructure, AI, automation, and seamless customer experiences, these industry leaders highlighted the vital role that technology experts like Exist  play in enabling transformation.
Sessions and Concluding Insights:
The roundtable comprised four insightful sessions, each shedding light on different aspects of humanized banking. In each session, Exist Technology Directors Jejomar Dimayuga and Dennis De Vera and YugabyteDB Head of Sales, Dennis Sze, together with Jonas Lim, provided comprehensive summaries and key takeaways.
One session that stood out was Session 3, which revolved around enabling borderless digital customer engagements through data compliance. YugabyteDB, an open-source database, took center stage during this session, showcasing its capabilities in ensuring robust and scalable infrastructure to support seamless customer experiences and scalable databases. Dennis Sze's expert explanations and insights further enriched the discussion.
The CIO Roundtable witnessed a distinguished gathering of banking leaders, with representatives from renowned institutions such as: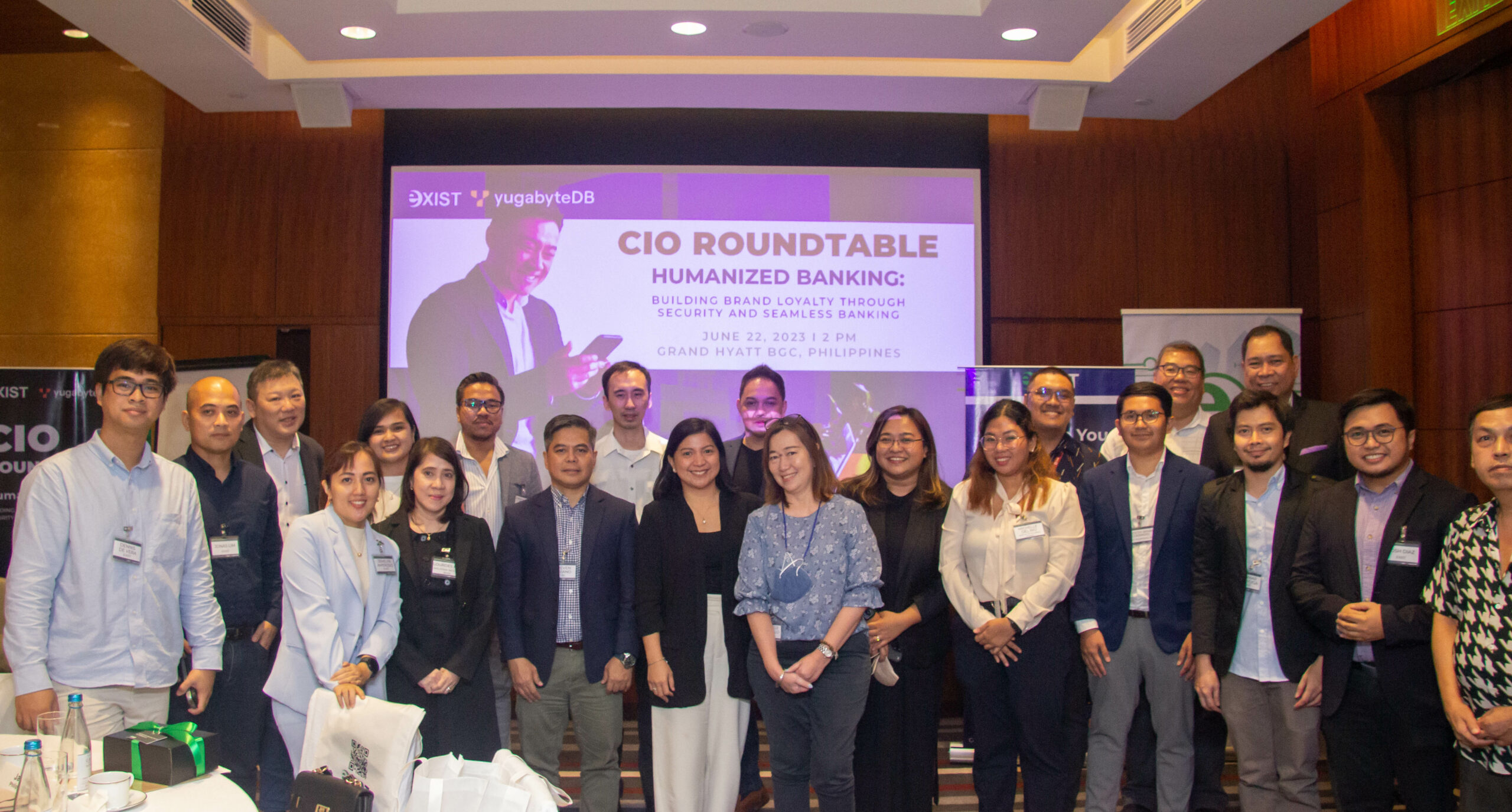 Looking Ahead:
The Humanized Banking CIO Roundtable served as a catalyst for accelerating digital transformation within the banking industry. By embracing cutting-edge technologies like embedded finance, AI, database modernization and many more digital banking solutions from Exist and Yugabyte, banks can become well-positioned to deliver personalized experiences, enhance security measures, and drive rational efficiency.
Exist Software Labs, Inc., as a leading digital banking solutions provider, remains committed to enabling the industry's evolution towards humanized banking. Through its expertise in Mobile Internet Banking, Accounts Onboarding, Loans Management System, APIM, and Corporate Internet Banking, Exist empowers banks to navigate the ever-changing landscape while fostering long-term customer loyalty and satisfaction.
As the event concluded, the participants left with valuable insights and a renewed commitment to harnessing technology to deliver exceptional banking experiences. The Humanized Banking CIO Roundtable marked a significant milestone in the journey towards secure, seamless, and customer-centric banking, and the collaborative efforts of all involved promise a brighter future for the industry.
Contact Us Today to Learn More about Digital Banking!
Start your Digital Banking journey that is secure, scalable, connected, cloud-ready & flexible.