Makati City, Philippines – In a dynamic fusion of technology and banking, Tech Fusion 2023 ignited sparks of innovation and ushered in a new era of financial technology last September 21, 2023. Hosted at the Microsoft Philippines Office in Makati, this exclusive event brought together prominent figures from the banking industry, top executives, and decision-makers to explore the transformative power of DevOps, Cloud Migration, and API Management. In collaboration with Crayon and Microsoft, Exist Software Labs, Inc. unveiled a world of possibilities for the BFSI (Banking, Financial Services, and Insurance) sector.
Charting a New Course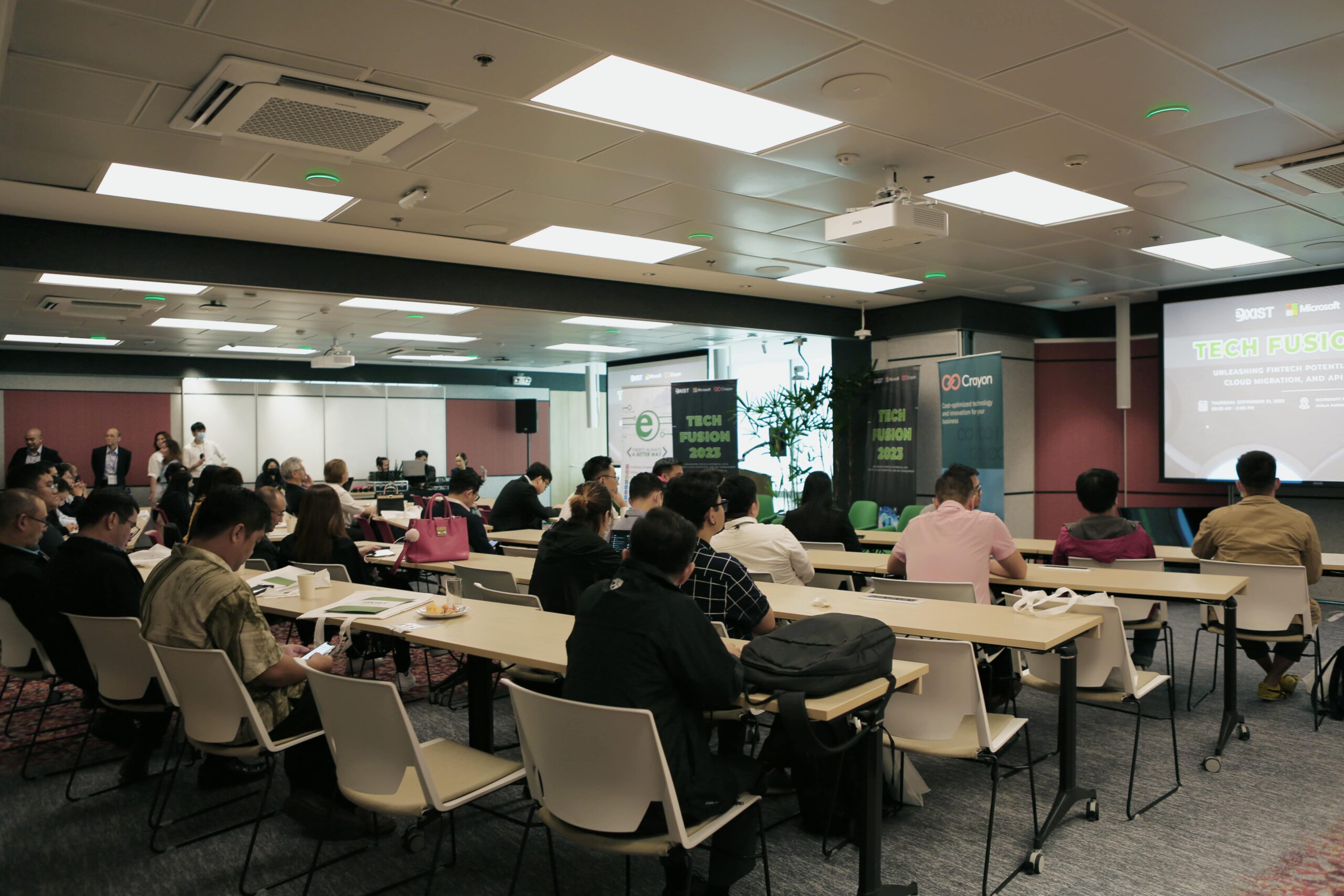 Tech Fusion 2023 was not just an event; it was a voyage into the heart of digitalization in banking. The journey explored three main areas:
DevOps Dynamics: Time-to-Market Accelerations with Confidence
The first leg of the journey examined how DevOps practices can dramatically accelerate time-to-market for banking solutions while instilling confidence in the process. Attendees learned strategies to balance speed and quality, ensuring robust software delivery.
New-Age Competition: Modern Infrastructure and Cloud-Native Architecture
In the second phase, the discussion revolved around modernizing infrastructure and embracing cloud-native architecture. Experts elaborated on the pivotal role of microservices, containerization, and serverless computing in building scalable and resilient banking applications.
API Quest: Navigating the Infinite Possibilities of Banking Innovation
The final stretch explored the infinite possibilities of banking innovation through API Management. Attendees gained insights into how API technology simplifies banking transactions and integrates diverse applications into a unified platform, fostering financial inclusion and transparency.
Exist Awarded as Crayon's Partner for Banking Solutions in the Tech Fusion 
The event commenced with a warm welcome from Willex Perez, Exist's Co-founder & VP of Sales & Marketing. He expressed his enthusiasm for collaborating to enhance efficiency and satisfaction in banking through digitalization.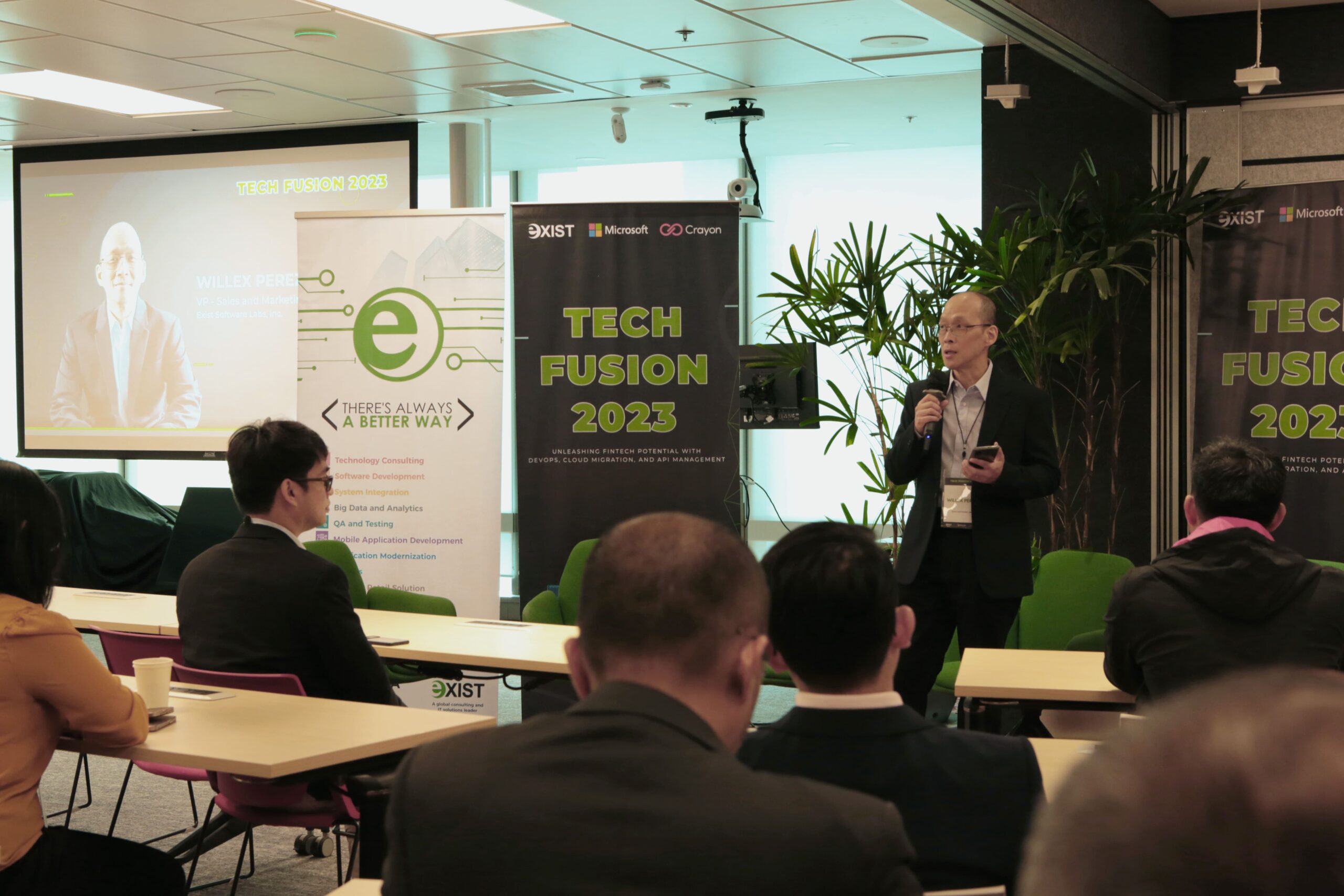 The highlight of the day was the official launch of Exist's Digital Banking Solutions, known as the Exist Banking and Financial Services (EBFS) Business Unit. Jemelyn Ambrosio, BFS Business Unit Head, unveiled the digital banking roadmap, which depicted the evolution from traditional to digitally mature banks.
Following the presentation, Crayon Philippines recognized Exist Software Labs, Inc. as their primary partner in Banking Solutions in the Philippines. Carlos Sevilla, Crayon Philippines' Channel Sales Director, presented this recognition to Exist.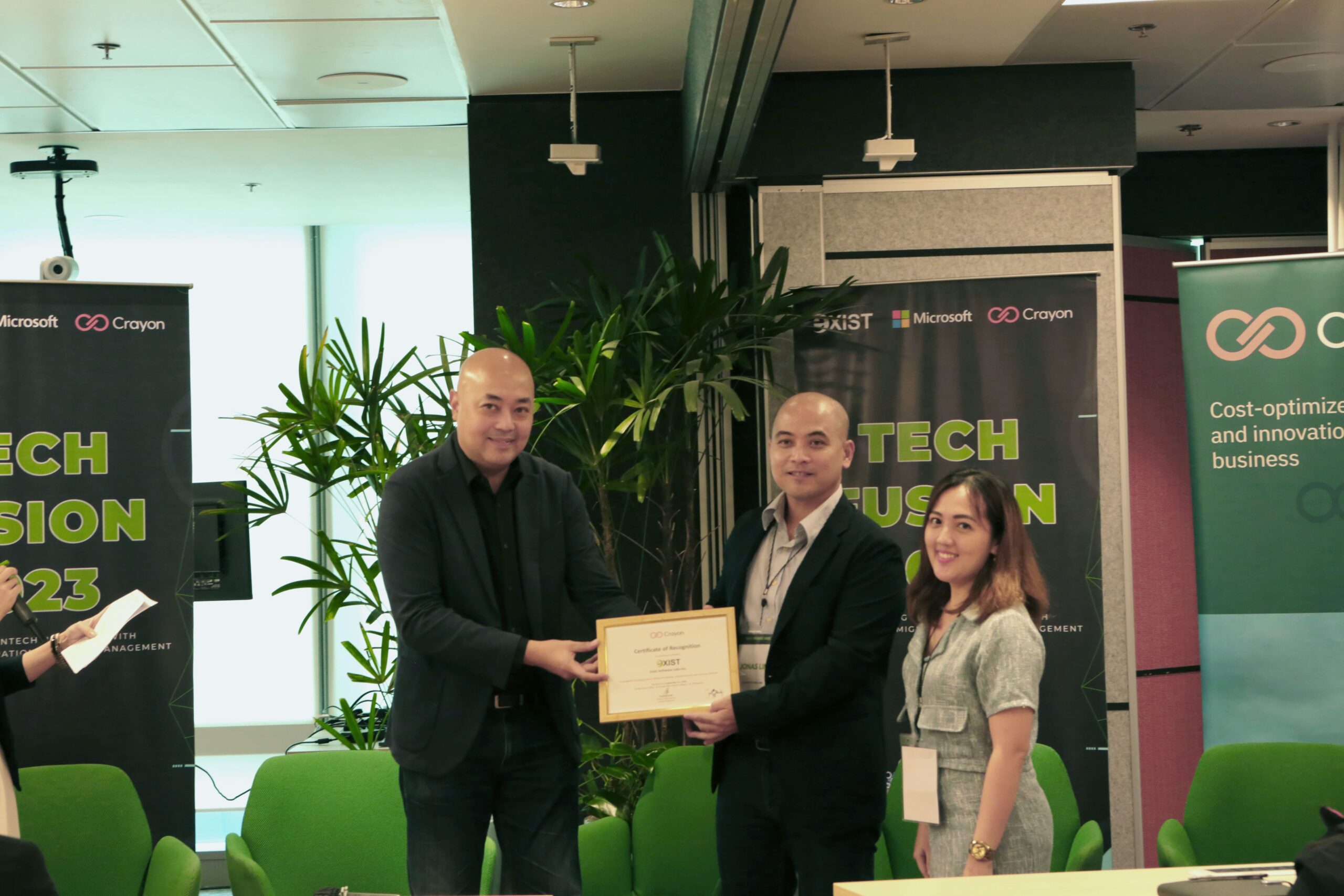 Embrace the Future: Begin Your Digital Banking Journey Today
Schedule a free technical consultation to start your digital banking assessment
Panel Discussion
The heart of Tech Fusion 2023 beat within the panel discussions. Seasoned experts from diverse backgrounds shared their experiences and insights:
Randy Cabredo

– Solutions Area Specialist for Azure, Microsoft

Chester Guerrero

– Head of Production Security, Maya Philippines

Carlos Sevilla

– Channel Sales Director, Crayon

Jonas Lim

– Vice President of Technology, Exist Software Labs

Dennis De Vera

– Director of Technical Services, Exist Software Labs
These panelists wove together their experiences and domain expertise to create a rich tapestry of knowledge. They delved into innovations and real-world implementations, answering participant questions and unraveling the intricate world of digitalization. The Tech Fusion event illuminated the path to a future-ready digital banking landscape through DevOps, Cloud Migration, and API Management.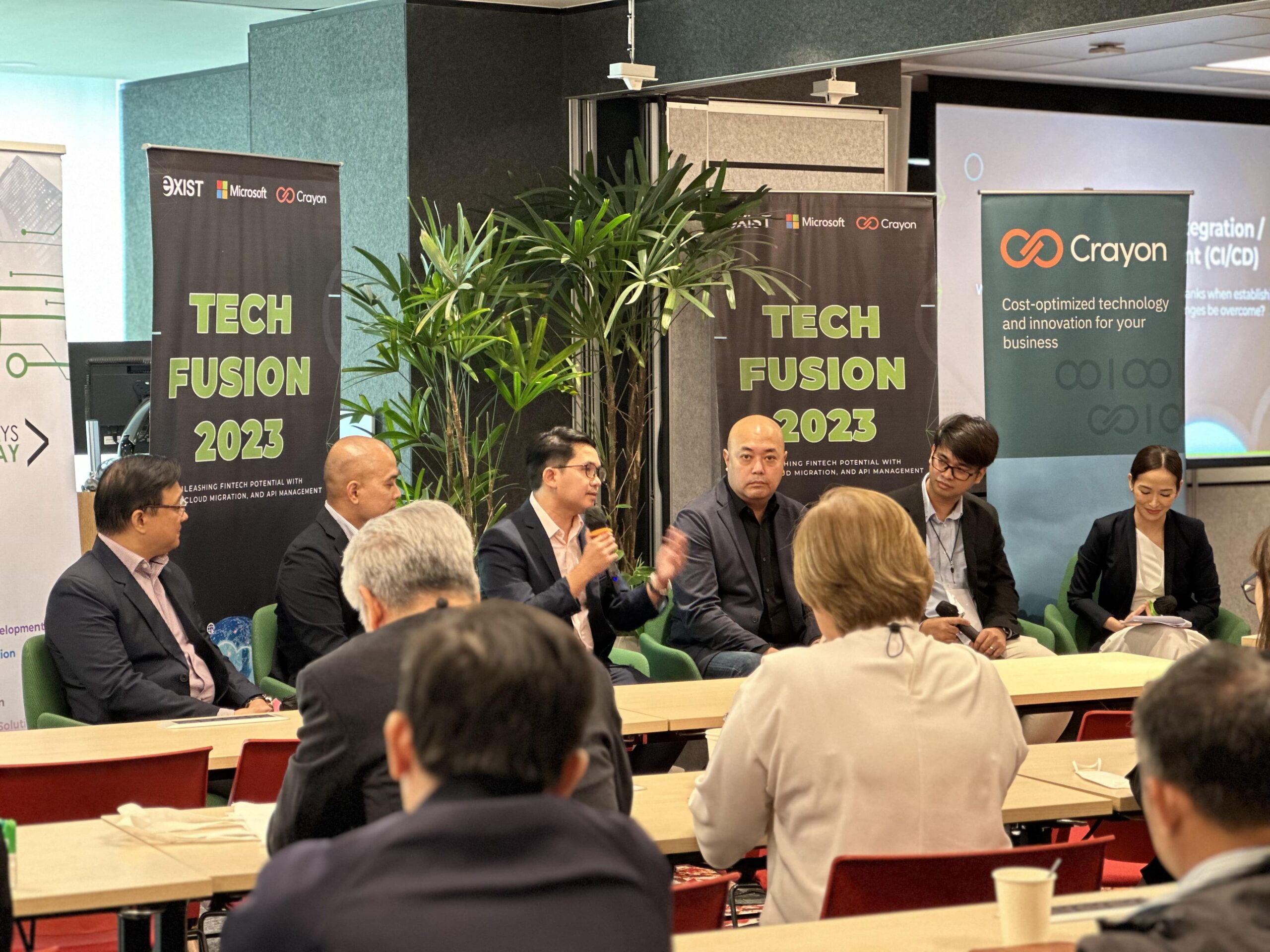 While enjoying lunch, attendees seized the opportunity to network with technology experts and engage in enlightening conversations with fellow banking leaders. It was a moment to connect, share ideas, and envision a digitally transformed future for the BFSI sector.
Crayon's Digital Transformation Insights
After the lunch break, Crayon's Business Development Manager, Gab Villanueva, took the stage to share valuable insights on digital transformation. This added yet another layer of knowledge to the event, further enriching the participants' understanding of how technology can drive financial institutions forward.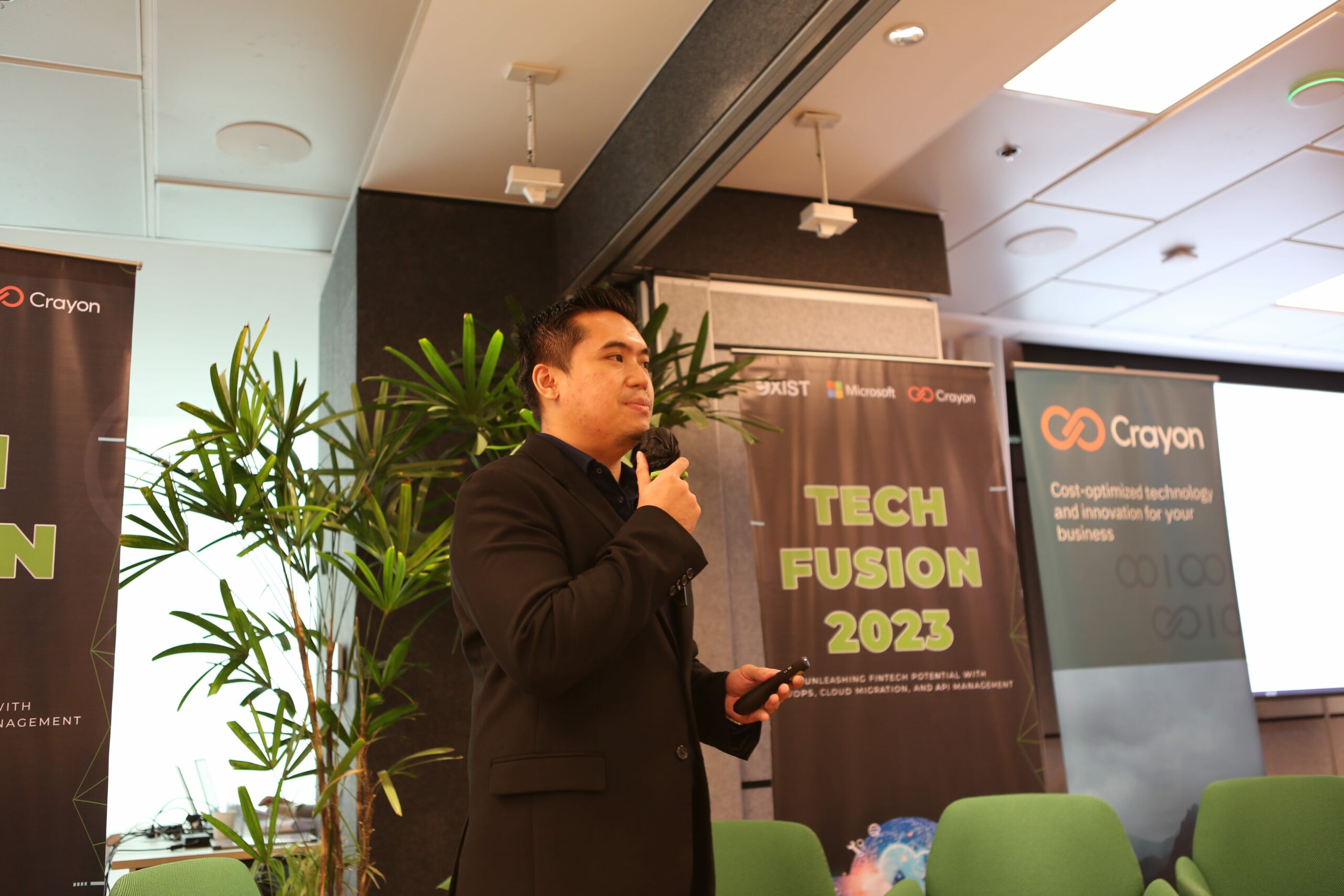 A Fusion of Knowledge, Innovation, and Fun
Tech Fusion 2023 was not just an event; it was an experience filled with knowledge, insights, fun, and new technologies. Banks across the Philippines can now leverage the wisdom shared during this event to embark on their own journeys of digital transformation, ultimately benefiting their customers and securing a competitive edge in the rapidly evolving BFSI landscape.
As the sun set on Tech Fusion 2023, the banking industry in the Philippines looked forward to a future illuminated by innovation, collaboration, and the limitless potential of technology.
Tech Fusion 2023: Shaping the Future of Banking, One Innovation at a Time
Contact us today to learn more about Digital Banking
Start your Digital Banking journey that is secure, scalable, connected, cloud-ready & flexible