How the Internet of Things is Reinventing the Energy Industry in 2022
https://exist.com/wp-content/uploads/Iot-Blog-size.jpg
650
486
Exist Software Labs
//exist.com/wp-content/uploads/logos/exist/logo-default.png
The Internet of Things (IoT) has given so much convenience to human activities and transactions over the years that it has become one of the most important technologies on a global scale. It helped not just individuals on its day-to-day activities; but also various business verticals on its company-wide operations.
The energy industry in the Philippines is no exception. The Internet of Things (IoT) provides a wide range of applications that can be utilized in the energy sector; this includes energy production, transmission, distribution, consumption, and many more.
See figure 1.1 (This is the evolution of the Internet of Things (IoT) over the years.)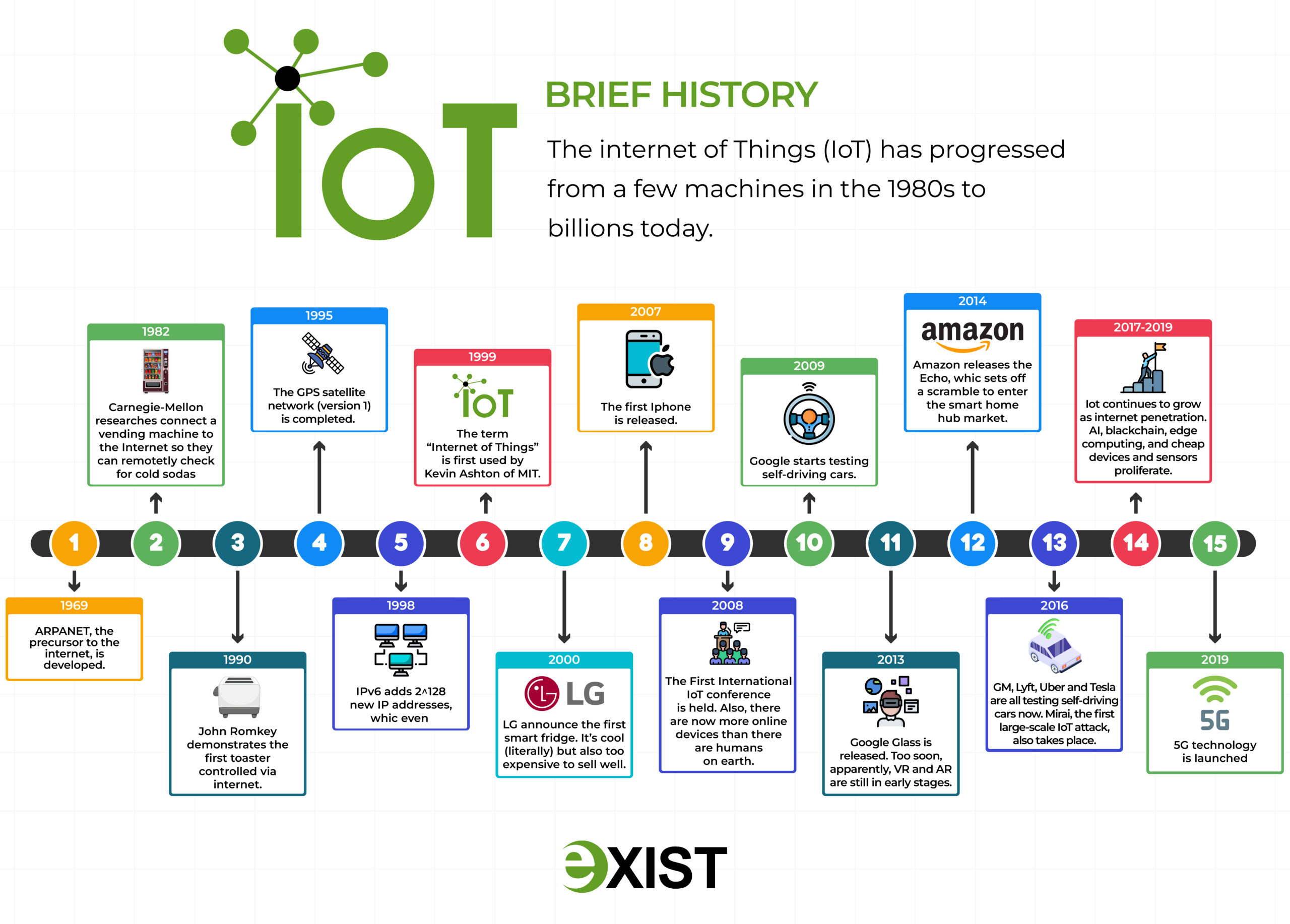 In previous years, most of us, consumers, never really considered mother earth when consuming energy; This is one of the improvements that IoT may bring forth! Organizations can drastically cut waste thanks to increased control over energy consumption. It brings significant cost savings and allows for a reduction in CO2 emissions, which benefits the environment.
Another challenge that the Energy Sector has is the lack of integrated energy planning and demand forecasting. This significantly widens the gap between energy supply and demand; However, with the help of IoT's advanced analytical systems, organizations can now develop precise and real-time forecasts. Here are some Internet of Things (IoT) capabilities that will reinvent the Philippine energy industry.
See figure 1.2 (Here is the entire IoT ecosystem of the Energy Sector. From generators, transmission, distributors to the consumers.)
1. Intelligent Grid
IoT enables grid systems to gain control over power flow or significantly curb energy use and helps in tracking real-time energy consumption that gives users almost complete control over their energy consumption. Its automated approach also helps consumers become more cost-efficient while decreasing energy waste.
While Energy companies, on the other hand, may achieve real-time monitoring, rapid data restoration, and highly accurate usage forecasts, making energy system management and maintenance much easier.
Empower your system with IoT today!
2. Monitoring of Processes and Resource Optimization
Automation is one of the benefits that IoT can provide; having an IoT system means less human intervention, and less human intervention means fewer errors. The use of sensor devices in a power plant allows for the automated execution of processes and the delivery of better, error-free production. The availability of data on all areas of the supply chain enables the operating system to make accurate judgments on a wide range of factors.
IoT solutions generate real-time data, allowing management to act quickly and take appropriate action if there are errors or inconsistencies, allowing businesses to produce higher-quality services.
3. Analytical Advances
With increased energy consumption demand, energy businesses must rely on advanced analytics more than ever to meet customers' expectations for more options, better transparency, and lower energy prices and waste. In order to compete, utilities and power generators must utilize the same analytics to precisely anticipate future power usage.
The sensor-enabled technology assists the Philippines' energy sector in gathering more precise data that can be used in proper forecasting of energy supply and demand. As a way, it lowers unnecessary energy usage.
4. Reduction of maintenance and operating costs
Predictive maintenance is another significant advantage of IoT data. Proactive testing and repair significantly reduce the amount of time the machines are inactive, hence minimizing catastrophic equipment failures and lowering maintenance expenses. It enables managers to take complete control of energy data from the beginning and considerably optimize the operation. The use of an IoT-powered solution in the energy sector employs sensor-based approaches to automate the industry's operation.
Intelligent sensors and devices, for example, can communicate information from distant equipment to detect an impending fault, minimizing damages and stoppages and giving the system much more flexibility.
5. Increase the Production of Renewable Energy
A smart, dependable, and efficient power supply contributes to the smooth operation of smart cities. The application of IoT in renewable energy generation will assist them in producing enough energy to meet their needs.
Sensors attached to generation, transmission, and distribution equipment are used in IoT applications in renewable energy production. These technologies let businesses remotely monitor and control the operation of their equipment in real-time; This reduces operational expenses and energy waste, but more importantly, it helps us minimize our reliance on fossil fuels.
You may now achieve the above-mentioned processes and technologies with Exist Software labs! For over 20 years, we helped several energy enterprises by implementing multiple Energy Automation solutions.
Achieve advanced analytics without breaking the bank, optimize your operations, and achieve advanced management systems by utilizing various enterprise-grade technologies designed exclusively for the energy industry.
Empower your system today!
Learn how to fully automate your processes to create a more competitive, transparent, and efficient system with our Power System Solutions.
Take your power system to the next level!