Unlocking the power of your data.
Understanding the Potential of your Data
Begin and move forward with your data journey by understanding the concrete potential of your data. DiscoverEX provides and empowers organizations with opportunities to explore, discover, and organize the data they currently have.
We will Identify and create possible insight from the data sources you have. By identifying available and potential data sources and analyzing and understanding data coming from these, businesses can have a better grasp of information they can leverage to formulate valuable insights.
Data turned to Insight helps You
What is DiscoverEX?
DiscoverEX allows organizations an entry to explore, study, and make use of the data they currently have.
Data assessment is at the core of DiscoverEX. By analyzing and understanding existing data, businesses can gain valuable insights into customer behavior, market trends, and operational efficiencies.
DiscoverEX takes data assessment a step further by enabling continuous development; providing businesses with knowledge on how they can use their data with the help of Business Intelligence tools.
Why DiscoverEX?
Discover the data you currently have and learn more about how to start analyzing them;
 Identify the other datasets you can study to identify and fulfill metrics that will fuel your business growth and efficiency;
Know more about leveraging Business Intelligence (BI) tools to facilitate data visualization, reporting, and decision-making;
Upskill your team on data management – create an appreciation for data analytics and train on the use of BI tools to improve job performance and increase efficiencies
How it Works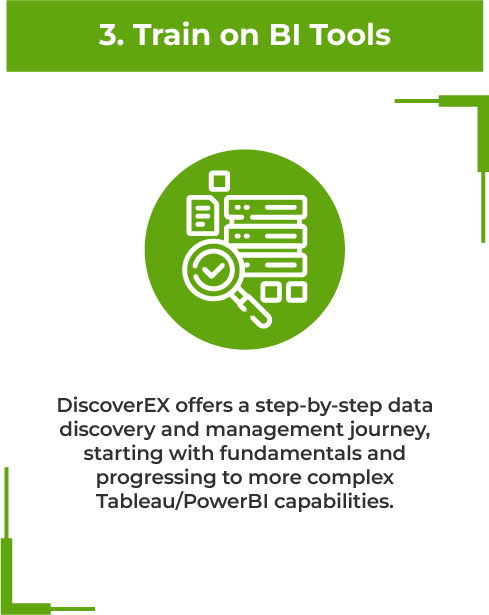 During the Tableau/Power Bl workshop, you will learn how to effectively collect, organize, and analyze data using tools and techniques.
You will also discover practical use cases where data analysis can drive business growth and innovation. The workshop will guide you through the basics of navigating and using the Business Intelligence tools.
With real-world examples and interactive exercises, you will see firsthand how your data can be transformed into actionable insights. We can accommodate 5 training participants, online or in person.
Use Cases