The PEPIF 2023 was attended by delegates, sponsors, and resource persons who provided invaluable insights and stimulated meaningful discussions among the stakeholders. The forum aimed to strengthen collaboration and forge partnerships among industry participants in support of the objectives of the Electric Power Industry Reform Act (EPIRA) and accelerate programs under the Philippine Development Plan 2023-2028.
One of the key highlights of the forum was the annual Market Participants Update, which apprised the Wholesale Electricity Spot Market (WESM) members of the latest developments in both the wholesale and retail markets. This update provided a comprehensive overview of the current market trends, regulations, and opportunities for the participants.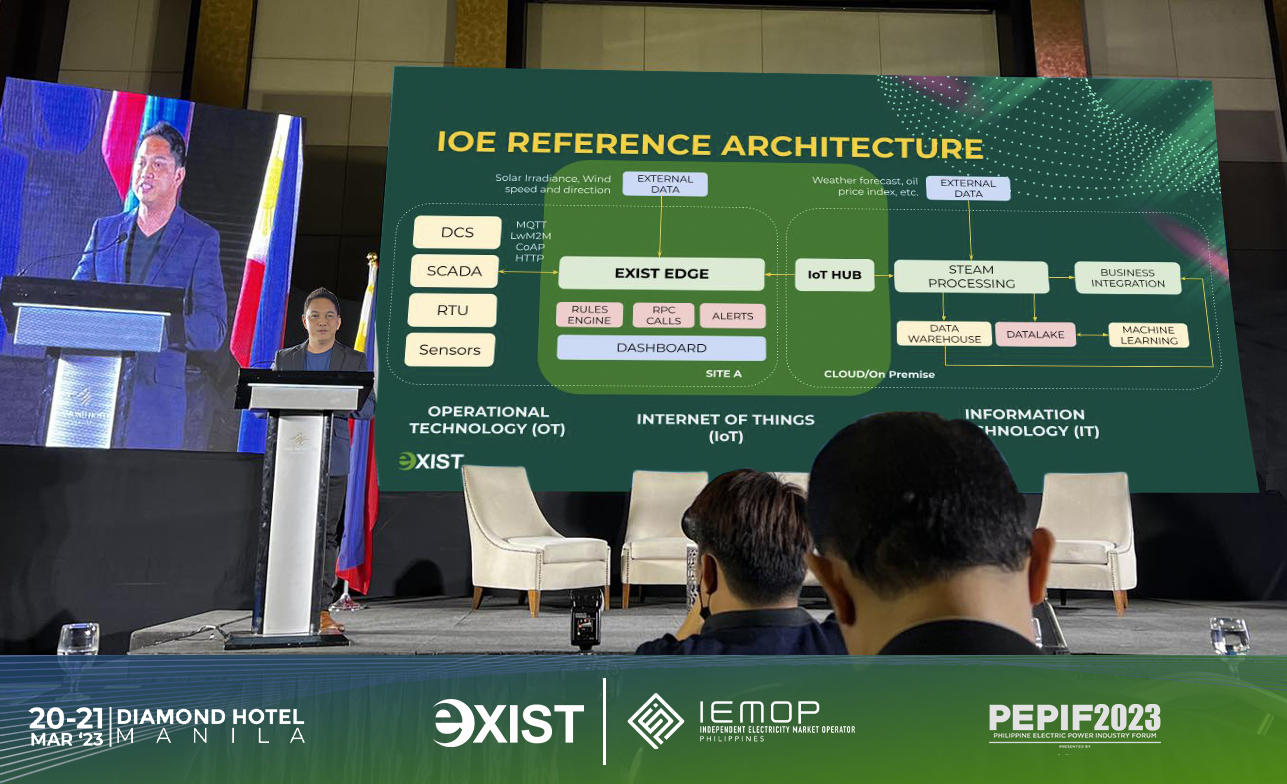 Chriss Silerio, the VP for Operations of Exist Software Labs, Inc. discussed the Internet of Energy at PEPIF 2023
Chriss Silerio, the Vice President for Operations of Exist Software Labs, Inc., served as one of the esteemed technical resource speakers. His presentation focused on the convergence of informational technology (IT) and operational technology (OT) in the context of the Internet of Things (IoT), and its significance in shaping the future of the energy industry.
According to him — "IoE takes a more holistic approach by connecting people, data, and processes in the interconnected system…by connecting all these energy assets, devices, and systems of the internet, we can create a smart energy network that is capable of self-optimization and self-healing."
He shed light on how the integration of IT and OT in IoT has the potential to revolutionize the energy sector by enabling more efficient, interconnected, and data-driven systems. He elaborated on how the convergence of IT and OT can optimize operations, enhance grid management, improve asset management, and enable predictive maintenance in the energy sector.
Want to learn more about how IoE can help the Energy Industry?
The PEPIF 2023 covered a wide range of topics in the electric power industry, including generation, transmission, distribution, retail, and end-use. Industry leaders and experts shared their insights on the latest trends, innovations, and challenges facing the sector. The forum provided a platform for meaningful discussions, knowledge sharing, and networking among the participants, fostering a collaborative approach toward achieving a secure and reliable supply of electricity for the country.
IEMOP expressed its immense pride and honor in successfully hosting the PEPIF 2023 and extended its appreciation to all the participants for their support and contribution to the event. The forum served as a significant milestone in promoting cooperation and partnerships within the Philippine electric power industry, toward a sustainable and vibrant energy future for the country.
Need an Energy Billing and Trading System but not sure where to start?