"It is not the strongest of the species that survives, nor the most intelligent that survives. It is the one that is most adaptable to change." – Charles Darwin
According to Forbes and Microsoft, these are the main technologies in retail in 2020:
Chatbots

Mixed Commerce (e-commerce X in-store)

Loyalty on Mobile

Blockchain

Data-driven Business

Artificial Intelligence

Augmented Reality
Technology innovation is a key parameter for innovating your business right now. KPMG, a multinational audit firm, recently illustrated a graph of three (3) options to drive retail businesses.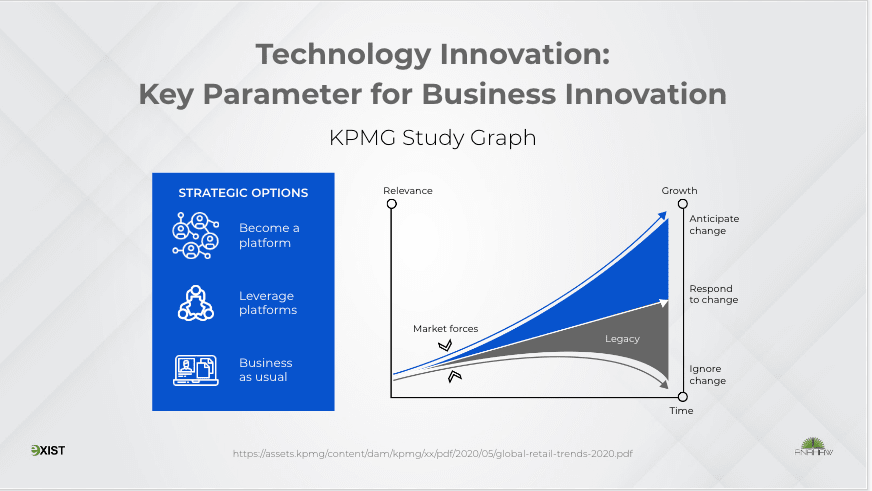 Keeping the business-as-usual model means that you are a legacy type of business. You are comfortable with the tried and tested model that you have right now that has worked in the past but is uncertain to work in the future. It is like ignoring the changes that are happening around you and how the consumer behaves. Remaining in this grey area despite all the shifts that are happening in the industry will lead to becoming irrelevant over time.
However, if you are thinking of leveraging or being the platform for retail, you are responding to the changes, and to different consumer behaviors. That is leveraging technology to respond to new demands, and anticipate those that might occur in the future, making sure that you are still at the growth path.
One example is how Jollibee dealt with the changes engendered by the pandemic.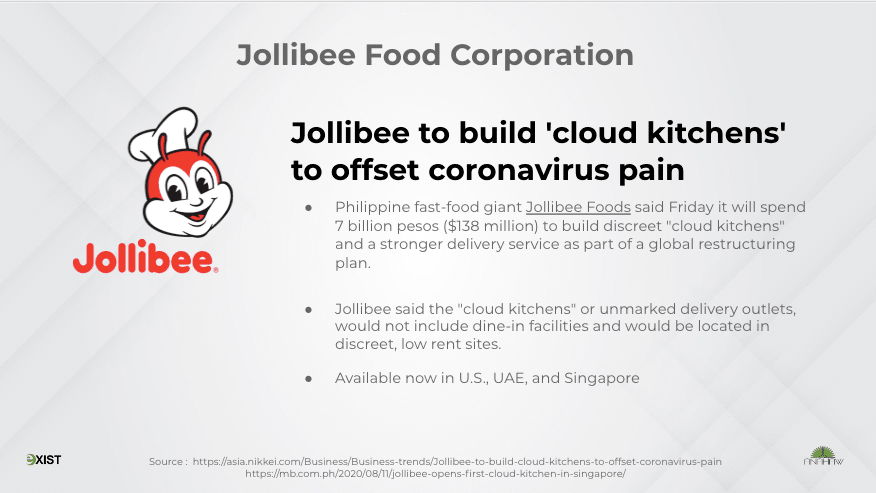 Jollibee has been opening a lot of stores locally and globally. They have been doing the same growth strategy for decades with less integration of technology on their operations compared to what they developed right now.
Jollibee built "cloud kitchens" to offset the losses that they had during this period. They have invested 7 billion pesos to set up these "cloud kitchens" to continue to bring their products to their customers without the need to build the usual dine-in, brick-and-mortar facilities. Instead, they built delivery outlets located in discreet, low rent sites that serve as hubs. Cloud kitchens are now available in the United States, the United Arab Emirates, and Singapore. This presented how important it is to be on the lookout for opportunities to innovate and adapt to the possibilities in the market using technology.
When you talk about innovation, you should not only talk about how you can provide your services online. Your business should be encompassing three (3) fronts and is able to empower these three. You have to be smart and have a data-driven strategy. Bringing your business online is just one part.
Customer
Seamless Online and In-Store experience (Web-mobile platform, In-store tech hub)

Data Source (I.e. CRM – Know your customer, Loyalty Engine – Reward your customer, A.I. – Understand your customer)
Employee
Empower your employees with the information. 

Seamless Online and In-Store experience both customer and business

(Mimic online experience in-store)

Data Source (I.e. Real-Time Inventory, Inventory Projections, Smart Suggestions, Special offers for targeted customers)
Partners
Engage and enable your partners

Data Source (I.e. Supply Chain Automation, Vendor Management System)
Technology innovation does not only cover how you can provide for your customers. It has to be perceived holistically.
So, How do you do it?
There are five (5) stages of an organization's journey.
Business as Usual (No changes at all)
This is when you are not adopting any changes right now. You might be trying to get by with the tested business model. This puts your business into the risk of being forgotten, of failing, or of suffering drastic losses.
Experimentation (R&D)
You want to learn more and test something to see what fits your business.
Strategic Planning
It is when you are laying out a strategic plan that will fit your business from the data that you have gathered for the past months.
Organizational Roll Out
When you already have a strategic plan, you have to roll it throughout your organization to align every aspect of your digital strategy to every section of your organization.
Full Adaptation
Continuously innovating to see where else can you improve.
Five-step Iterative process
These are the processes to help you out with your journey of being part of the digital economy.
Strategic Intent – you want to inject a digital strategy as part of your objective

IT Feasibility Validation – checking if it is feasible to do in your organization in an IT perspective

Business Unit Engagement – getting everyone on board

Organization Injection – execution, making it part of your business culture

Rapid Release of the Next Generation Business Services
It does not have to happen in one go. Even after releasing your first digital milestone, you may go back to the first step to see what else can be improved.
Case Studies and Insights
Walmart
(in an interview with then CTO, Jeremy King)
In 2018 Walmart and Microsoft announced a five-year partnership to drive digital transformation across Walmart, boost shopping speed, and empower retail associates.

Customer-facing technologies are in Microsoft's Azure cloud

Machine learning as one of the most important technologies Walmart is using. 

Predictive Inventory accurately addresses one of the biggest consumer complaints, which is accurately providing the right availability of items that they have.
Starbucks
They incorporated Data Analytics into their Marketing and Sales efforts.

what kind of coffee their customers are ordering and adjust their offerings accordingly.
Personalize offers and marketing materials.
Increase sales and cut costs of ineffective ads and marketing

Starbucks Mobile app: Starbucks has been using reinforcement machine learning technology (ML) to provide a more personalized experience for customers who use the Starbucks mobile app
IoT – measure consumption of coffee beans in partnership with Microsoft
BlockChain – trace coffee beans from its source
Domino's Pizza
In the mid-2000s, Domino's was struggling with both brand image…they recognized the need for rock-solid digital strategy to improve customer engagement and overall brand image
Marketing and IT  aligned to communicate Domino's digital transformation story to the users (consumers). This led to the social listening platform

Think Oven

, a social listening platform which allows Domino to get real-time feedback from their customers. This was launched in the mid-2000s, back when social media is starting to gain dominance.

After a successful rollout of their mobile app, they introduced Domino's Anywhere: customers can order from a plethora of devices including Amazon Echo, Google Home, Siri, Smartwatches, Smart TV's, Slack, Facebook Messenger, Twitter and more

Extensive use of Cloud technology via MS Azure's PaaS, all of their core systems – digital ordering systems, ERP, back-office operations, and supply chain systems in the cloud.

Domino is planning to invest in conversational AI and cognitive technologies (NLP) to further enhance the user experience.

In 2017, Domino Pizza overtook Pizza Hut to become the largest pizza company in the world generating $12B in global revenue.
IKEA
Cultural Transformation (Interview with Chief Data Officer, Barbara Martin Coppola)
This is how they achieved a digital mindset:
"In order to be successful, digital needs to be embedded in every aspect of IKEA. Digital is a way of working, making decisions, and managing the company."

"At IKEA we've divided our digital transformation into four main areas:

Meeting the customer

Empowering co-workers

Digital Foundation

Digital DNA"

"When speaking of digital transformations, it is imperative to think of it as a strategic paradigm shift, and culture can either enable that transformation or it can severely hinder it."
Technologies per Business Size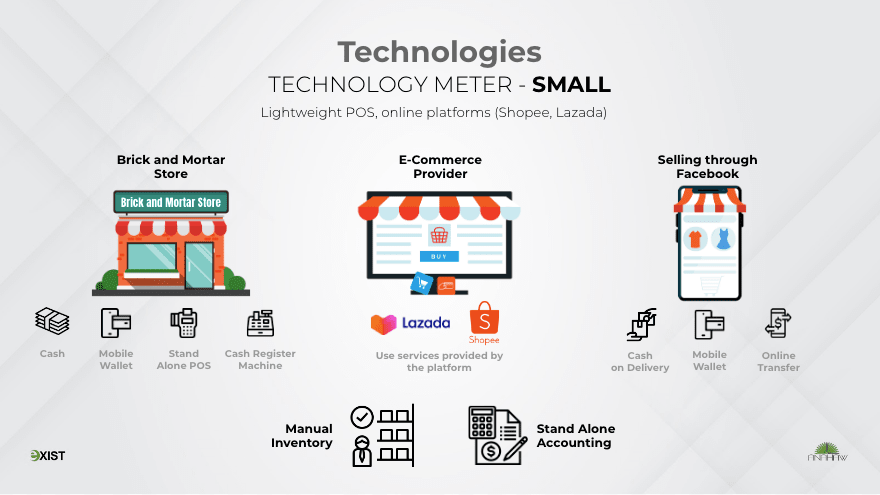 Companies or people before put up a small store, and they were only using cash register machines and accepting cash as payment. Now, this CRM is now being replaced by POS. Along with this, people are also changing and tend to use tools like GCash or PayMaya. 
On another part, people who are not able to put up a physical store make use of e-commerce platforms, like Lazada and Shopee, to make it available to the public.
During the pandemic period, people had to adapt and be more creative. They are utilizing Facebook as their channel. People who are doing transactions here usually start with a COD payment method until they have established their customers' trust, but definitely switch to utilizing mobile wallets.
With all these models of small enterprises, inventory is done manually.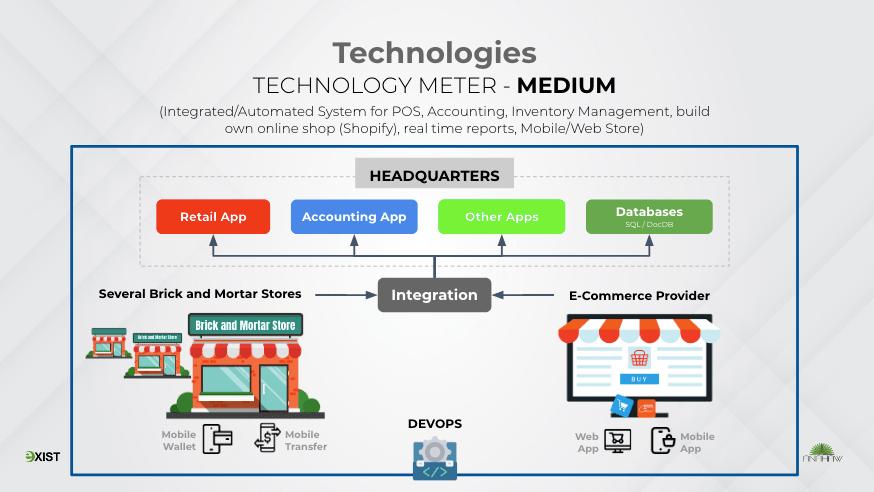 Physical stores become more scattered within the city, across the city, or all over the country. With the utilization of POS, companies are able to control these brick and mortar stores and to communicate with applications in the headquarter. 
Some companies start as e-commerce. But eventually, these retailers would want physical presence and put up physical stores, putting up brick and mortar, and e-commerce to form their mixed channel of selling.
For databases, the structured data will require the use of SQL technologies, while document databases are used for non-structured or semi-structured data.
Examples:
SQL Technologies (PostgreSQL, MySQL, Oracle, MS SQL Server)

Document Database (MongoDB, CouchDB, CouchBase)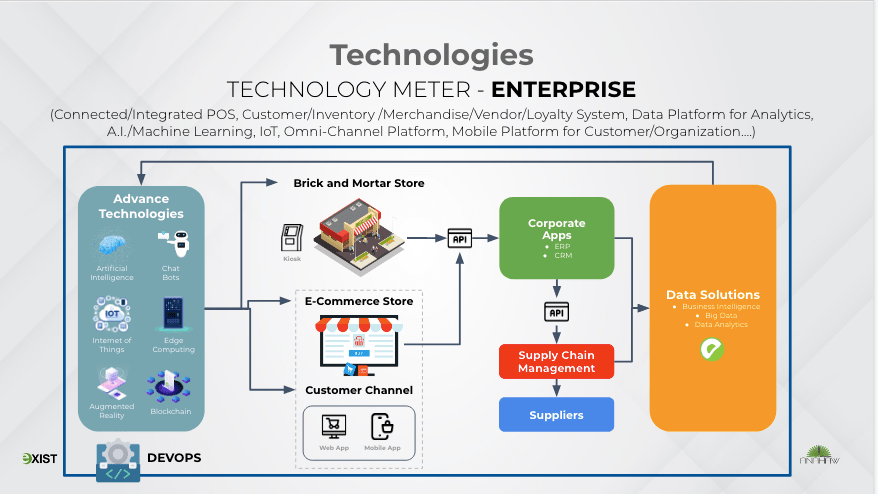 The large enterprise model is similar to medium, but it presents more potential for the company to do more, and utilize more technologies. There will come a point in time that the company will need to use corporate applications/ERP. It handles all of the operations of the business.
In 2019, more brick and mortar stores adopted the use of kiosks to perform other functions.
Large enterprises also have plenty of vendors and need to have applications to manage their operations.
It is expected for such a size of businesses to have an executive information system in place, basically like business intelligence already. When a variety and volume of data come in, Big Data also does because it already has so much data to consider.
There are three (3) types of data analytics:
Descriptive (under business intelligence)

Predictive (statistical models; used for forecasting)

Prescriptive (artificial intelligence; machine learning;

draws up specific recommendations

)
Greenplum fits best if you want all of these. It is a data hub, a repository for all your data. It has AI and machine learning libraries.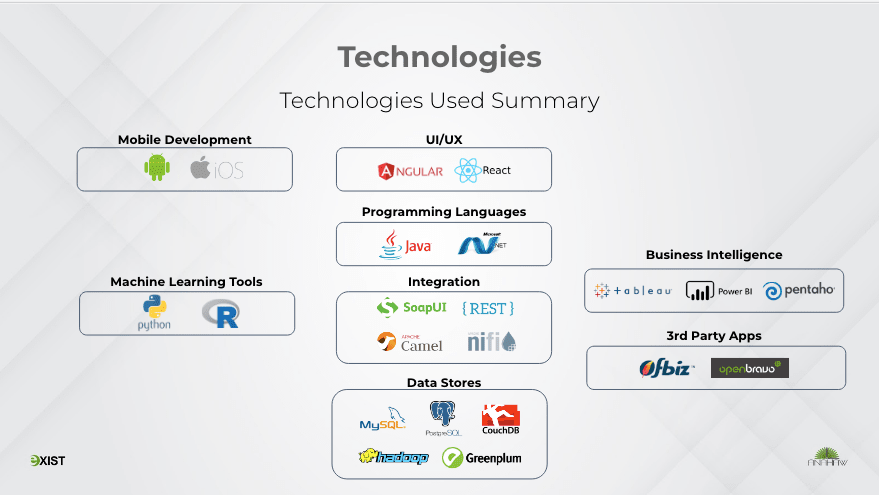 If your system is future-proof, it is capable of putting all of these technologies together.
DevOps should be in place if you are undergoing a digital transformation for a more seamless deployment.
Current to Tomorrow's Technologies:
Artificial intelligence (AI)
Allows visual recognition or customized image recognition to fit the business needs, It detects and identifies people, emotions in images. In Amazon Go, a person can pick up an item from the store and immediately leave with it. The payment is automatically deducted from the person's bank account. The same concept is also a running idea for hotels.
Retail use cases:
Amazon Go

Cardless Membership
Internet of Things (IoT)
A system of interrelated, non-traditional computing devices with unique identifiers, usually IP addresses. It also has the ability to transfer data over a network without requiring human-to-human or human-to-computer interaction.
Retail use cases:
Amazon Go's IoT sensors

AWM Smart Grocery

Smart Shelves/Shelf Tags

Thermostat Control

Flonomics' counting system and retail analytics technology help retailers determine optimal staffing levels for different dates and times, improve marketing strategies, gauge traffic flow, enhance customer service, and more.
Chatbot
A software application used to conduct online conversations, like Alexa, Siri, and more. It provides live contact with a human. An example of this is Globe's Dude, a chatbot to monitor employees' health launched during the enhanced community quarantine.
Retail use cases:
Tommy Hilfiger Chatbot

recommends client based on the information provided

Support use

Answering queries – FAQs

Respond to customer concerns and informing the support team

Globe's DUDE – monitor employee health
Augmented Reality
An interactive experience of a real-world environment where the objects that reside in the real world are enhanced by computer-generated perceptual information.
Retail use cases:
IKEA Place

Fitting Rooms App
Is a growing list of records, called blocks, that are linked using cryptography. Each block contains a cryptographic hash of the previous block, a timestamp, and transaction data (generally represented as a Merkle tree).
Retail use cases

tracking shipments, 

centralizing databases

stopping fraud and counterfeits

and increasing transparency
Key Takeaways:
Business strategy must include the ability to adapt/embrace change

Technology adoption is a major contributor to long term success

Digital Transformation will help define and execute the digital strategy road map

Choose the technology that best fits your strategy
Get to know ANAHAW, our retail solution specially built to adapt to modern retail business requirements, and to specifically work on providing you an edge over the rest.