PBCOM's Chief Operating Officer, John Howard Medina, had this to say:
"The team at EXIST has brought us several technology innovations over the last few years and we look forward to continuing to push the digital envelope with them."
Philippine Bank of Communications has strengthened its partnership with Exist Software Labs, Inc. which has been a key technology consultant and implementation ally.  By this, the alliance allows both parties to continue to co-develop the innovations needed for the bank's digital channels.
This partnership began in 2016 with the creation of the omnichannel PBCOM Online Platform (POP) and in 2019 the PBCOMobile self-service banking app.
Exist's VP for Engineering shared his excitement about flourishing the said partnership.
"The partnership between PBCOM and Exist is doing great. It is built on mutual trust and a common commitment to ensuring success to PBCOM's digital roadmap. As a technology partner, we continuously aim to work closely with PBCOM to ensure that the most appropriate and practical technology options will always be available for PBCOM's digital strategy."
PBCOM and Exist
Here is the timeline that marks the milestones that Exist and PBCOM achieved throughout the years: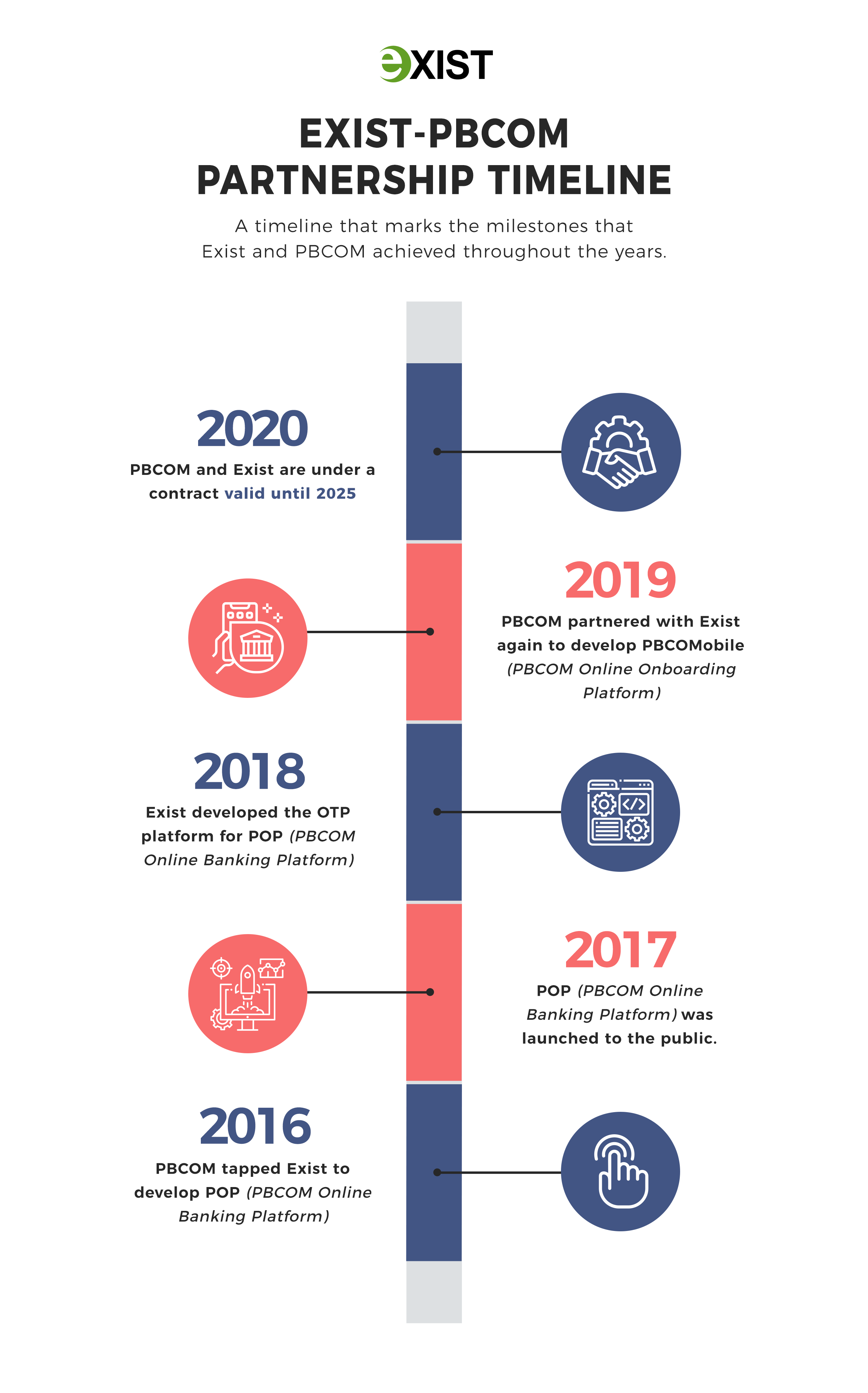 • Viewing account balances
• Monitoring transaction history
• Downloading bank statements
• Transferring money
• Paying bills
• Sending money to third-party bank accounts
Internet and mobile versions of the app have the same look and feel, making it easier to understand and use.
It is within this year also that they subscribed to Exist Maintenance Service for POP. This agreement between the two is annually renewed.
Download our FREE datasheet!
Exist fosters a future-ready digital banking technology that equips its banking and fintech partners with the agility to adapt to ever-changing market demands.
Exist Digital Banking and Fintech have already streamlined the solutions-building process by creating a foundational banking app that can easily integrate with core banking systems using a standard set of integration connectors to equip banks with capabilities to shift and compete in the digital economy rapidly.