I was able to attend the Mobile Financial Services Summit last week, thanks to the C-SAM team. C-SAM provides a "globally deployed enterprise-grade mobile transaction software platform" to enable a number of services such as mobile banking, money transfer, bill payments, to name a few.
Priscilla Le, one of their Business Development Managers, demonstrated C-SAM's current NFC-enabled offering that allows people to use their mobile phones to purchase items even without their wallets. That was my first in a series of findings and lessons gathered at the said summit, which I'd like to share below by answering some of the questions posted in the summit website.
What is the Mobile Financial Services of the future? How do banks and technology providers view this opportunity?
I think the best answer to this is that customer needs will drive the convergence of platforms, ie online and mobile. One of the presentors exemplifying this is AMEX — AMEX is offering an online shop providing exclusive discounts and offers to AMEX card holders, providing people access to merchandise (used to be on limited availability) with just a few clicks of the mouse. AMEX has created an American Express mobile app to enable its consumers to "keep in touch, when they want it". On top of this, AMEX offers an OPEN app center that provides digital tools that can help businesses "improve cash flow, save money, and get and retain customers". Siew-Ling Chua says that it's not all about the technology, though. It's about listening to your customers — providing them real value, and not just a bunch of new stuff.
Usability of mobile financial services – Focus on customer adoption and getting customers to use commercially available services
Here's what we learned: APAC market is ripe for mobile banking and other m-commerce services, such as m-ticketing, and m-payments with the rise of smartphone penetration. Mobile money apps are also getting traction. However, to answer the question or rather to comment on the above, usability needs to be driven by training (even if that means hand-holding), marketing, and partnerships in order to push consumer adoption "usability" which is "the degree to which a product is easy to use", can't really be driven by training but by understanding user needs, designing the product well, and delivering a product that meets the users' mental models.
We can drive comfort and adoption via training and hand-holding, which will work as long as the product meets user needs and there is value (in the product).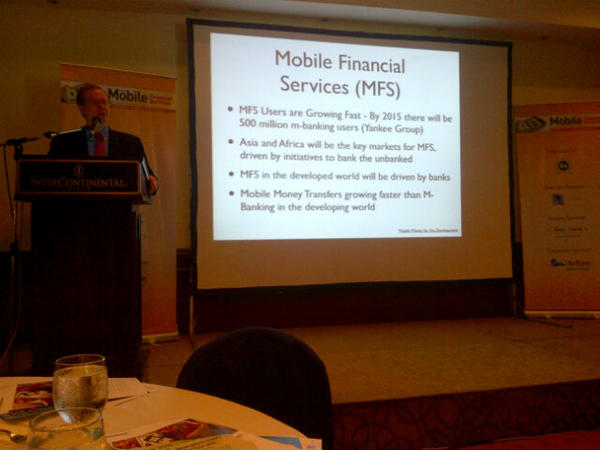 As with all things new — may that be process related or technology-related — that has to be "sold" its value to the userthrough stories and how-to examples. Not all will be ready for mobile money transfers, for instance, so players need to understand their markets well enough.
Players such as banks will be the most influential, followed closely by telecom operators. Some may deem technology companies and retailers less influential, but new business models driven by these sectors are changing the game at a fast pace, ie Square, mPowa, retailers such as Wal-mart, Target.
BPI Globe BanKO, Tessie Tan, shared their experiences as a mobile money-enabled bank at the summit.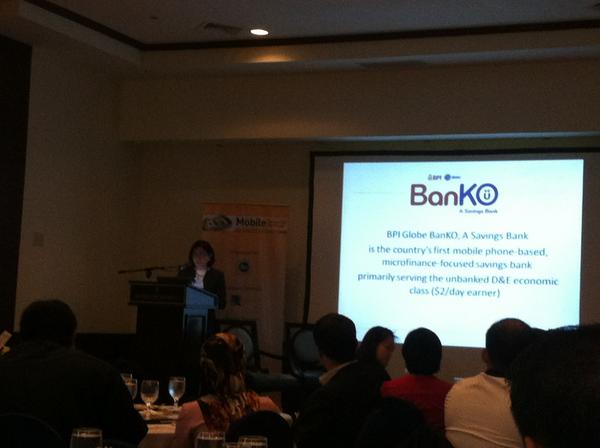 Web and online players getting into mobile targeting mPayments as the next big thing – Amazon, Google, Apple
Really, it's not just the web and online players. In the Philippines, there's a big market for unbanked and underbanked — that's why GCash and Smart Money have become successful. Here's a news piece Globe's GCash mobile app for iOS and Android. It's not just the telcos taking advantage of m-payments. I hear a startup called PayBilis is backed by Bayad Center so that means you (Filipinos in the Philippines) can pay any bills (300++) from Aparri to Mindanao. Now, that's interesting.
Here's an interesting startup that developed a payment platform that allows companies to build a number of payment services including credit card payments, P2P, wire transfers, check acceptance, and more. [Disclaimer: NPN is a client  of Exist.] And look at what Mastercard just recently launched: a mobile MasterCard PayPass User Interface SDK.
After the stunning videos showing people paying for stuff (such as groceries) via their mobile phones, I'm wondering what kind of (other, say untapped) mobile services can be implemented in the Philippines? What do you think?